I haven't written in a while. Sure, I have sat down to write many times, but just couldn't formulate my thoughts enough to do them justice. Until today.
If you could put a medical diagnosis on a period of time I would classify 2016 as bipolar.
1.having or relating to two poles or extremities. "a sharply bipolar division of affluent and underclass"

2. (of psychiatric illness) characterized by both manic and depressive episodes, or manic ones only.
Seriously. You. Have. No. Idea. Or perhaps you do in your own world. If so, you are not alone in thinking that 2016 was bipolar.
I'll begin with a bit of history, 2015.
2015 Seemed like the upswing of amazingness; bought a house, went on an amazing and romantic West Coast trip, got engaged, work was successful, my father was seemingly feeling better from his treatments, and I can actually remember being in the car smiling- thinking THIS IS AWESOME.
I remember immediately thinking after that- this will all come to an end soon. Well, then we welcomed 2016. Oh hello.
Here are some of the lows and highs of the year from my imperfect point-of-view.
Low: Terrorism is at an all-time high to where I am actually afraid to go anywhere.
High: I started planning our wedding! Date, venues, vendors, priests, wedding party, favors and dress. Check.
Low: Our political system went from stupid to something Cypress Hill would sing about- and now the writers of SNL have fallen into a deep hole of the same boring shit every week. We get it. You are bummed Hillary lost and you like mocking Trump. Can you please move the fuck on and bring back Justin Timberlake or Andy Samberg? Or both? Thanks.
High: The Ice Bucket Challenge actually made a breakthrough in ALS research!
Low: We lost so many people in 2016 that TIME MAGAZINE's Person of the Year is the Grim fucking Reaper! I mean we lost the ultimate creator of the chick-flick, Willy Wonka, the crazy heiress who slapped a cop and married nine men, Professor Snape, the guy who invented that ice tea & lemonade drink that Gunnar and my father loves, the boxer who makes the argument in Coming to America's barbershop scene come to a close, Dr. Jason Seaver, the Russian dude from the new Star Trek movies, an astronaut, "The Artist," Patty Duke, Scrooge McDuck, Janet Reno, Natalie Cole, Grizzly Adams, Miss Cleo, Punky Brewster's dad (on the show), the mayor who famously says "Bring me the Ghostbusters!", the man who wrote Hallelujah, the guy who wrote Hotel California, Mr. Hockey, the author of "To Kill a Mockingbird," Larry Sanders, R2-D2, Mrs. Brady, Bowie, the man who made the sentence "I want your sex" actually make sense, Princess Leia AND her mother, and SO MANY MORE. We have been depleted of so much talent. I fear for the tasteless and vulgar "comedy" stylings of the Amy Schumers of the world that we are left with. I miss the time when there was a little mystery and grace.
Side note: yes, I know I swear a lot, so I'm not saying that I am graceful. At all. I digress.
Moving on.
High: I got accepted into the MBA program at UNH for Spring 2017 and Brad got commended for saving a man's life!
Low: Hatred of EVERYBODY is at an all-time high. I have never before seen anything like this and it scares me every day my husband puts on his uniform. People are being killed for the sake of being killed every single day. In America! I understand that comment might come off ignorant, as people have always died every single day, and now because of social media we are more aware of it, but it feels like its gratuitous sport at this rate. IT NEEDS TO STOP.
High: We got 10 chickens! I was told not to name them, but I did. I mean, I had to have a Cocky. Don't worry- I kept Brad in mind as I named the biggest yellow one Clay Matthews. 
Low: We lost all but one of our chickens to a jerkface fox. You don't know sad until you see 9 piles of feathers all over your yard. 🙁  RIP Chicken Cocky and Chicken Clay Matthews. That one remaining chicken now lives with our neighbors- who also have chickens. I suggested bringing him in the house to be domesticated, but I guess that isn't a thing. I tried.
High: Brad finished our beautiful home inside and out. We bought a house, but Brad made it a home with his talent and craftsmanship. Work was good for us and our relationship has been stronger than ever.
Low: Brad lost the two women in his life who raised him. First his mother, Barb. Her failing health just overcame her very slim frame and she took her last breath in February. Then, in July, her younger sister Joanie followed. I don't know exactly what took her from this life, but I truly believe it was a broken heart. They were best of friends. They were crazy, silly, Wisconsin-salt-of-the-earth women, with good hearts and bright red hair. They raised one of the most amazing men I have ever met in my entire life. Celebrities had nothing on these two women.
High: I got a job offer from an amazing company, Lindt & Sprungli. It was a hard decision to leave the Boston Globe, but the close proximity to home (for my father) and dream position of finally being able to create something had me hooked.
And now for the finale:
Lowest Low: My father's seemingly dormant prostate cancer came alive and his failing health took an evil turn for the worst as it hit his liver. This was an extremely rare cancer, as apparently prostate cancer metastasizing to the liver doesn't happen often (so I was told). The real hit was that he kept the actual state of his health from me- so I wasn't prepared. I never really knew the whole truth. "All you get to know is that I am sick" was what he said to me. Finally, without wanting to be a burden on anyone, and with the full knowledge that he was losing his freedoms with every moment, he took his own life on June 16th. He was only 68. What I do know from this horrible loss is that my father loved Brad and Gunnar. He blessed our upcoming marriage. He blessed Brad as a son. He let me know how proud he was of me and that he loved me very much. He taught me to be confident within myself vs. seek approval. What I wouldn't give to have him randomly show up, too early in the morning, for pancakes, bacon and orange juice- with pulp. We miss him every single day. I have now made steps to join the Death with Dignity movement. You should too because you never know what hand you'll be dealt later.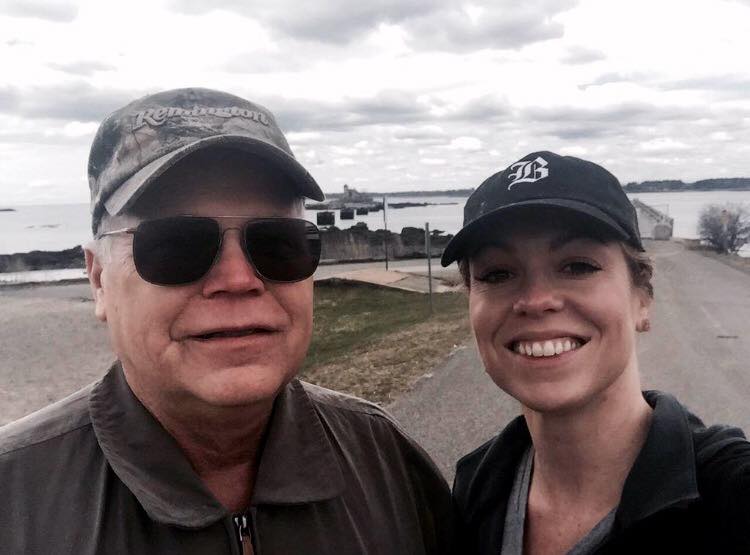 Highest High: Brad and I got married in the most wonderful celebration I have ever known in Portsmouth, NH. Aside from the lows of the year, we were able to put it aside for one day and celebrate our love. We had friends and family come from all over the country to join us on this champagne and blush, with a touch of Tiffany blue day. We marched down the isle to the most beautiful music of Craig Armstrong (I walked in around the 6 min mark). Gunnar gave the most amazing best man speech on the planet. The music was fun and lively, by the talented Julie Kramer of RadioBDC. The event planner Casey at our reception space managed our small group of 100 like a pro. Holy good food! Just go there for dinner and imagine that quality of food-multiplied.  Nicole Friedler couldn't have taken better pictures. Everyone got along and laughed the whole day. This might have had something to do with the open bar, but I'm going to take it. And sure, our wedding party was of comical size, and the flower girl refused to turn around for pictures, but we got it done….in a blue 488 Ferrari (Thank you, Ezra!). Our honeymoon on Key West and Little Palm Island was warm and offered the spoils we needed to congratulate us on our nuptials. We did it!
If you can believe it, there are some more lows and highs that have happened this year, but I'm a little spent rehashing all of it. I'll leave it with what I have recorded and save the rest for another time. You get the picture anyway.
OH! Almost forgot- did I forget to mention today Brad and I have been together five years? Yep! Five years since that first day he opened the gate in my Chicago apartment, touched my hand and changed my life. We are spending the evening at a resort in Maine, and then back home to celebrate our first Christmas as husband and wife.
2016: So much loss, but so much love.